Home
/
Heart of the Hills
Proposed Heart of the Hills Coastal Connector Trail
The Heart of the Hills Coastal Connector is a proposed sea-to-sea, "shared-use"1 nature trail that would span 18-20 kilometres from Finlayson Arm to Cordova Bay, connecting with other trails and recreational areas where possible. There are already many existing and planned trails for this area. These travel through the District of Highlands, Town of View Royal and District of Saanich, asserted territory of the lək̓ʷəŋən Indigenous peoples of the Songhees Nation and Esquimalt Nation and W̱SÁNEĆ Indigenous peoples of the Tsartlip First Nation, Tsawout First Nation, Pauquachin First Nation, Tseycum First Nation and Malahat Nation, the Te'Mexw Treaty Association, along with parks of the Capital Regional District (CRD), BC Parks, and other private and public lands. See the concept map below.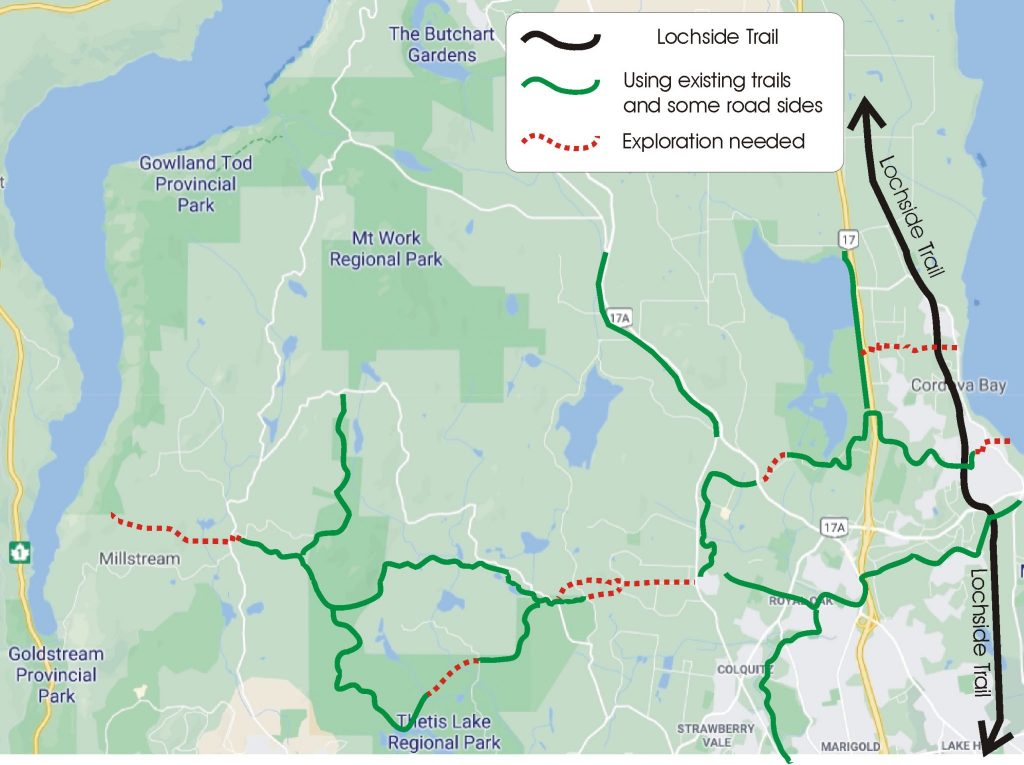 The Southern Vancouver Island Nature Trails Society (Nature Trails Society) is a not-for-profit society and registered charity dedicated to supporting, building, and connecting safe, enjoyable, and sustainable nature trails by collaborating with diverse stakeholders.
As a first step, the Nature Trails Society is seeking input from the four local government jurisdictions given the critical importance of working with their planning and parks departments. In parallel, we are reaching out to Indigenous communities with traditional territories that intersect with the general routing of the proposal trail.
Following this engagement, we hope to conduct detailed surveys and land ownership identification to establish one or more viable routes for a continuous trail for broad consultation. Trail use (e.g., hiking, trail running, mountain biking and horseback riding planning) would be aligned with the policies and management plans of landowners and managers, including local governments and BC Parks.
We welcome your input and ideas NatureTrailsSociety@gmail.com
Click play below to listen to a media interview on the proposed trail that was aired on CBC All Points West on August 25, 2021.
"Shared use" here means a trail between 30 cm (1 foot) and 1.5 metres (5 feet) wide with good visibility and frequent areas for travelers to pull or step off to let others pass. It is not meant for constant flow of traffic in both directions simultaneously. Users need to be aware of oncoming traffic and adjust accordingly. While the trail may be wide enough to accommodate multiple users in some areas, the minimum for the proposal is shared use. This reduces environmental impact and encourages slower speeds.